| SKU | Product Description | Product Code |
| --- | --- | --- |
| 120143161 | Bosch Styline Toaster Black | TAT8613GB |
| 120141406 | Bosch Styline Toaster White | TAT8611GB |
| 136092531 | Bosch Styline Toaster Black | TAT8613GB |
Product Description
Bosch Styline Toaster Black
Product Code
TAT8613GB
Product Description
Bosch Styline Toaster White
Product Code
TAT8611GB
Product Description
Bosch Styline Toaster Black
Product Code
TAT8613GB
Bosch (BSH) is voluntarily recalling the above Styline Toaster models produced from October 2021 to April 2023 as the quality checks have revealed a technical fault which can cause the electronics to overheat and could cause a toaster fire.
To minimize safety risks, please disconnect any affected toaster from the mains supply immediately and do not use it.
You can check if your appliance is affected by checking the nameplate on the bottom of the toaster (colour may vary from the image).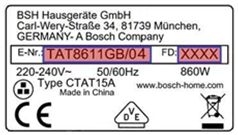 Please note the E-Nr number and four digit batch number FD and visit https://productsafety.bsh-group.com/gb/en/toaster & https://productsafety.bsh-group.com/ie/en/toasterwhere you can determine if your Bosch Toaster is affected. For further details or if you have any questions, you can contact the customer care team on 01536 436236. Or if you would like to request a call back please email your contact details at bosch-toaster-action@bshg.com and one of Bosch team members will contact you. Bosch thank you for your understanding.
Did this answer your question?
Thank you for rating this answer
We'll use this to help improve our service.
Still couldn't find an answer?
Get more from Sainsbury's
Contact Information
The team will review your complaint and aim to be in touch within 3 days, but please bear in mind that over a weekend or bank holiday it may take longer to respond.
Contacting us about a refund?
You'll need to give us a call on 0800 328 1700 if you ordered online. If purchased in store, please call 0800 63 62 62 or speak with a colleague next time you're in store.